I've just come back from London, where I was staying with one of my best friends from school. He is a professional rugby player and currently plies his trade with
Saracens
, the
2010/2011 English Premiership champions
.
Saracens have earned plaudits -- as well as attracted a degree of professional acrimony and jealousy -- for
giving the two-fingered salute to the old boys running the English RFU
shaking things up in English rugby circles. There's much to be said about the extremely professional, yet largely alternative route that they've taken to summit the world's richest rugby league. Such issues are largely beyond the scope of anything that I want to mention here, however, save for the fact that the club really emphasizes personal development outside of simply playing sport. They do this by strongly encouraging players to take on tertiary education, organizing special events for them to attend, and inviting guest speakers to deliver interesting and inspiring stories at the club.
I went along as a guest to one such session this weekend, which was led by
James Partridge
, founder of
Changing Faces
. As the name implies, Changing Faces is a charity that "
supports and represents people who have disfigurements to the face, hand or body from any cause
".
James' own life was forever altered after being involved in a
severe care accident in his late teens
:
On the Ides of March 1971 (15.3.71), I looked in a mirror for the first time after my accident 3 months previously – and from knowing myself as a good-looking 18-year-old guy with prospects, I came face-to-face with a disaster area which, it was very hard not to think, could only hold a very tarnished and unhappy self.
The photo tells only a part of the story because (a) it is black-and-white, and (b) it was taken two months after my day of reckoning when my face was still bloody scabs, vivid redness, and ghastly distortion.

Look carefully and you may see the tell-tale signs of doubt, grief and pessimism – I felt all of these as I scanned across that face and I just could not imagine how I could ever get my life back – any kind of life, frankly…
Five years of brilliant 1970s surgery created the face I now wear with pride but it was what went on outside hospital as I struggled to become a fully-included citizen and not an outsider, a horror-movie villain nor a just a lifelong patient, that really counted for me.
Interacting with everyone at the club, James was never less than charming and confident. Alongside a genuine interest in other people, it's amazing what a difference those qualities make towards disarming any knee-jerk reactions to his "strange face" (as he put it). There was no need for avoidance of eye contact, unnatural sympathy, and so forth, simply because he appeared so comfortable with himself and effectively managed the expectations of others.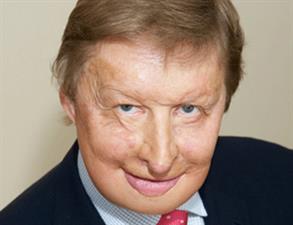 James as he is today
Listening to his story, I was also reminded of
Vanilla Sky
. In addition to a great soundtrack, I admired the film for seriously tackling the issue of how our physical appearance is intrinsically linked to our happiness; a subject that is too often passed off as frivolous and vainglorious, when of course it isn't. I'm used to interacting with the world in a certain way and much of that is contingent on the way that I look. In fact, I'd venture that we all trade on our looks to some extent and, as
Oscar Wilde observed
, beauty is its own form of genius.
Unfortunately, in
Vanilla Sky
Hollywood sensitivities ultimately won the battle: A disfigured Tom Cruise sees all his problems solved via cryogenic freezing and a visit to an advanced plastic surgeon's office at some unspecified point in the future. (Talk about realistic expectations!) In contrast, the people at
Changing Faces
offer some real insight into how those with disfigurements can overcome the challenges of integrating into a society obsessed with looks.